Diversity of the green destination Kočevsko
Destination Kočevsko is known as one of the most wooded and green areas of Slovenia.
Destination Kočevsko is one of the most wooded and green areas of Slovenia, since 87.9% of the area, which extends over 656 km2, belongs to nature, and 86.7% of it belongs to protected areas. A large part of our forests belongs to protected forest reserves that are inaccessible to visitors, and certain visitation restrictions that have been set under the LIFE Kočevsko project also apply to local fishing reserves. Due to premeditated and timely management of forests in the past, Kočevje also has many preserved forest areas (in the municipality of Kočevje forest covers 84% of the area, in Osilnica 86% and in Kostel 81%). In their structure, they are close to natural forests, which is reflected in the exceptional biodiversity and conservation of many plant and animal species. In Kočevsko, the Krokar primeval forest that covers an area of ​​74.49 ha, was included in the UNESCO list of natural heritage in 2017, while the Borovec Forest Reserve, which acts as a protective zone around the Krokar primeval forest, covers 47.89 ha (source: Slovenian Forest Service).
Photo: Jošt Gantar and Nea Culpa
The diverse natural area of ​​Kočevsko offers a home to many animal and plant species. In our guided tourist tours and programs for observing animals in their natural environment the wild animals are used sustainably and in a non-consumptive way. Observation programs are designed to inform guides, participants and the local population about the importance of our natural environment and animals, thereby raising their awareness of nature and educating them on green tourism and appropriate behaviors in case of an encounter with wild animals. Our forests are inhabited by various animal species, such as the brown bear, wolf, fox, otter, rabbit, badger, weasel, and ferret, which you can learn more about and see during these observations. The number of lynxes has decreased a lot in recent years, which is why the Life Lynx project is currently resettling new specimens to prevent their extinction and contribute to their long-term conservation in our area. In Kočevsko there is also a large population of deer, wild boars, hares, dormice and over 170 species of birds. The southernmost population of chamois in Slovenia lives in the Kolpa canyon, and in the Karst underground you can also find human fish.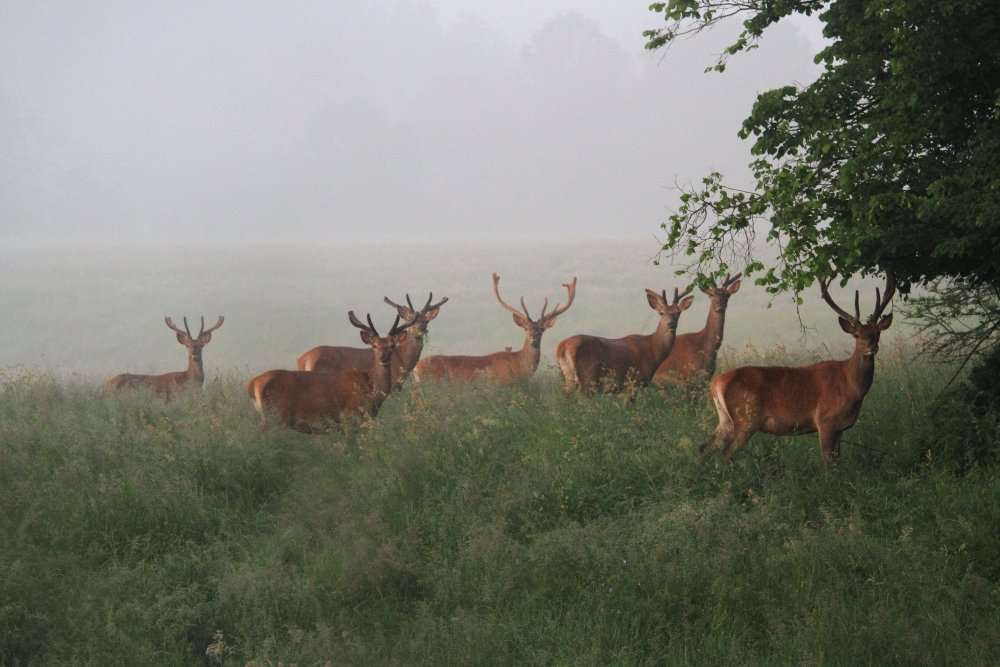 Kočevsko has a large population of deer and roe deer.
Photo: Marjan Artnak
In addition to observing wildlife in the forests, the endangered species of the white-tailed eagle can be observed by the Lake Kočevska Reka. With the project LIFE Kočevsko the eagles have been provided with a peaceful breeding and feeding habitat. Other bird watching stations are planned to be built in the surroundings and the educational Eagle's Trail by the lake already informs visitors about the surrounding nature, the richness of forests and the species protected by Natura 2000. During the migration of birds, almost 70 species of nesting birds can be observed by Lake Kočevsko, which represents an important resting area for them.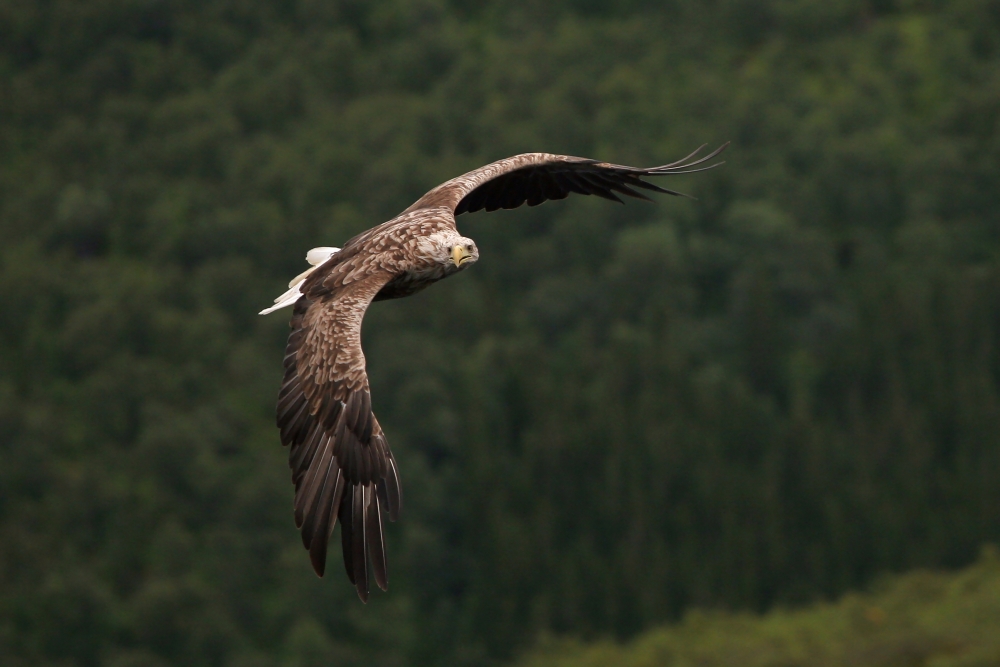 The white-tailed eagle is an endangered bird species of bird that can be observed by the Lake Kočevska Reka.
Photo: Marjan Artnak
Animals in our area are not in danger by endangered species trade, but their greatest threat is, in particular, insufficient consideration of the habitat requirements of the target species in forest management, human disturbances to their habitat, and pollution of the Karst underground world through illegal waste disposal and excessive and uncontrolled use of liquid manure in agriculture.
In the municipalities of Kočevje and Kostel, Komunala Kočevje is responsible for waste disposal and they have been actively and efficiently involved with developing guidelines for waste reduction and recycling for several years. Within the destination of Kočevsko, as much as 82% of wastewater is purified to a secondary level (Slovenian average is 56%) and as much as 63% of solid waste is collected separately for recycling (Slovenian average is 40%). Exemplary waste management and low population density, the high number of area covered in forest and heating of the town Kočevje on biomass have in recent years helped to improve the air quality. There are no airports, high-traffic roads or heavy industry in the vicinity, so no sound pollution occurs and the locals and guests can enjoy the silence and listen to the bird's song.
In addition to rich natural heritage, there are many important historic and monumental buildings in our area. The register of immovable heritage by the Ministry of Culture records 45 units in Kočevje, 2 in Osilnica and 7 in Kostel. The center of Kočevje maintains its bourgeois-look with buildings that were built in the Art Nouveau style and are now mixed with newer buildings from the period after the 2nd world war. In 1942, 12,000 people emigrated from our area, leaving behind many abandoned and uninhabited villages, their fields becoming meadows and the orchards largely left behind. After emigration, forest growth also increased in these areas.
Remains of a Baroque pilgrimage church in Nemška Loka (former village of Gottscheers).
Photo: Siniša Glogoški
Within Kočevsko there is only one museum, Regional Museum of Kočevje, but there are many individuals involved in collecting who display home collections, e.g. ethnological collection of Kočevje people at the Institute Nesseltal Koprivnik, Gorše Smithery in Mirtoviči, Stanislav Jarm Gallery in Osilnica, ...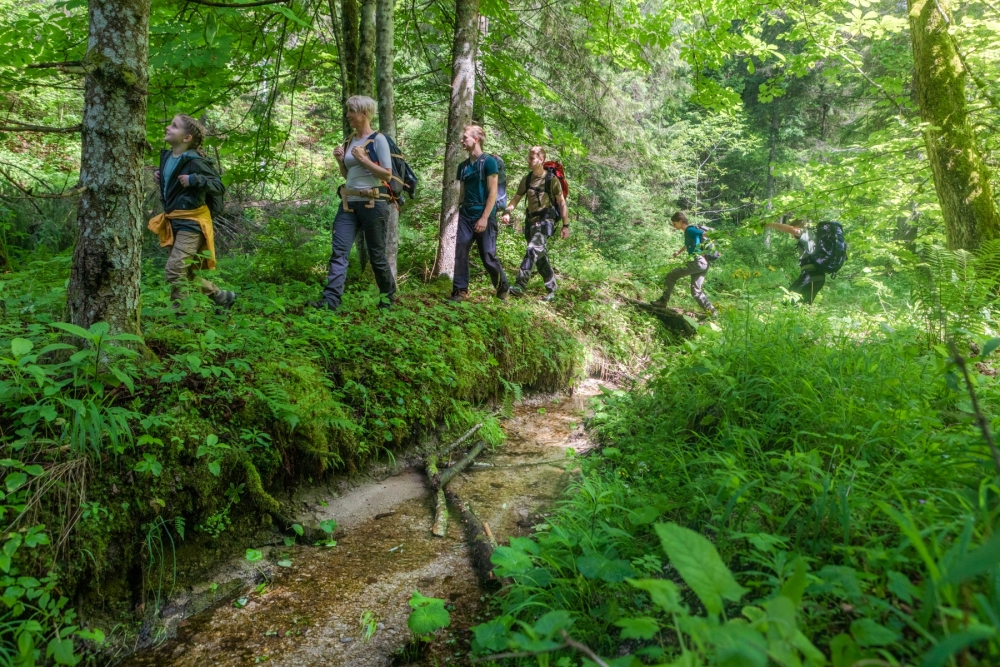 Our forests represent a true treasure trove of hiking, thematical and educational hiking paths.
Photo: Jošt Gantar and Nea Culpa
Most tourists visit Kočevsko between May and September, and with the awakening of tourism in our area, the current number of guests has no significant negative impact on nature. Institute Kočevsko estimates that there are 51 accommodation providers within the destination, including Bearlog Hostel and Camp Jezero Kočevsko, which have acquired the Travelife and ECOcamping environmental labels, the SLOVENIA GREEN ACCOMMODATION and are certified as hikers and cyclists friendly accommodations. Visitors mainly arrive at Kočevsko from neighboring areas or abroad, often by using their own car, while the regular bus line from Ljubljana is available for a more sustainable way to travel and a passenger train will also soon return to Kočevje.
Guests can choose from a variety of activities to explore the destination, among which the most popular and highly accessible are hiking and biking. Our forest represents a true treasure trove for hiking paths and cycling trails, which are also presented in hiking or cycling trail maps that guests can receive at TIC Hostel Bearlog or at the Lake Tourist Complex. Visitors can choose a guide for exploring hiking paths and cycling trails, and their information can be found on our website and in Tourist information centers in Kočevje. The Kočevje Mountaineering Society is in charge of maintaining local hiking trails, among which the Roška hiking path with the yearly 'Following in Bear's Footsteps' hiking event stands out. To cycle through the town of Kočevje you can rent KOLU bikes, but to explore and discover more distant forest trails we recommend renting a quality mountain bike at Bearlog Hostel. Institute Kočevsko is also developing one- or several-day lasting cycling programs that, in addition to cycling, combine other ways of discovering our nature. The MTB Trail Center Kočevje is also becoming more and more important and has quickly become a recognizable center for adrenaline-filled mountain biking, as well as a spot for numerous national and international competitions.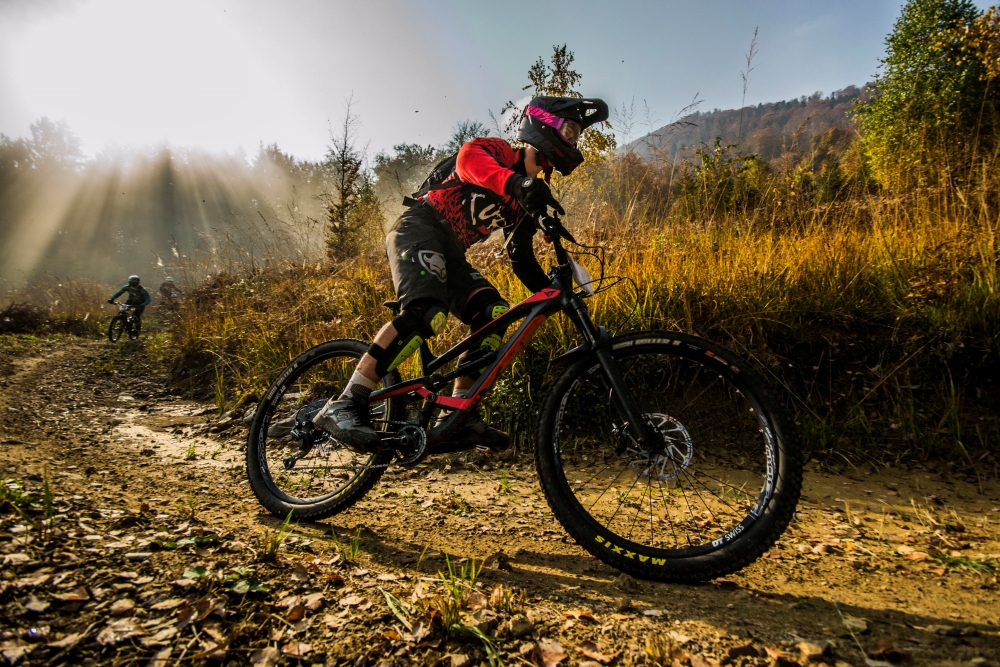 MTB Trail Center Kočevje has quickly become a gathering place for adrenaline-lovers and mountain biking enthusiasts.