Refreshment by and in Clear Waters
Does water have special magnetic attractiveness for you? Then you are in the right place. In Kočevsko you will find it difficult to resist the charms of the water, and you can choose between different activities on or near the water. For all those who prefer to enjoy themselves more slowly, there are many natural swimming pools available.
Fishing
The vicinity of Kočevje offers many possibilities for fishing, since the clean waters are rich in fish. Among fishermen, the most popular fishing spots are the Kočevje Lake and the River Kolpa, as well as the Reško Lake full of predatory fish and the River Rinža, which offer an abundance of fishing pleasures. The most prominent inhabitants of the Kočevje Lake are carp, pike, catfish, amur and zander, while brown trout, chubs, barbell, huchen, grayling and common nase are found in the pools of the emerald River Kolpa. More information on fishing can be found on the website of the Fishing Family Kočevje.
Rinža is a sinking river that winds its way across the Kočevsko field. In addition to pike and skis (which are ideally fished in spring and autumn, when the river is not so heavily overgrown with vegetation), the Rinža River is an excellent area for hunting predators. Carp and grass carp, which can be hunted throughout the year, are also found here, along with waterfowl, chubs, chubs, sickles, tench and redfish.
In and around Lake Kočevska Reka unique flora and fauna have formed in recent decades. The surrounding forests are protected as a reserve where a pair of white-tailed eagles have found their home, along with toothless mussels and crabs. Lake Kočevska Reka is exclusively a prey hunting area. The lake is rich in pike and skis, and their fishing is allowed only from a boat. In the lake, you can also find carp, grass carp, perch, sick, chub, redfin and tench.
The Kolpa River originates below the Croatian Risanjak and is the largest watercourse in the region of Kočevsko. Oxygen-rich water allows a large number of salmonid and cyprinid fish to survive. In winter fishing for huchen is popular, and during the year, fly fishing for brown trout and grayling are common. In Kolpa you can also fish for barbels and chubs. In addition to fishing, the Kolpa River also offers a unique experience of unspoiled nature.
Lake Kočevje is an artificial lake. It was formed at the bottom of a mine basin that was used for brown coal openpit mining until 1978. Today, the lake covers about 39 ha, and its maximum depth is about 40 m. Particularly due to its depth and thus cold and oxygen-rich water, it is regarded as one of the cleanest lakes in Slovenia, where numerous animal and plant species have made their homes.
In 1989, the Kočevje fishing family started keeping large quantities of fish, mainly predators and carp. The lake is considered to be excellent for carp and in recent years also a great location for predator fishing. In addition to carp and pike, Kočevje Lake is also inhabited by grass carp, catfish, zander, asp, chub, common perch, bream, tench and rudd. The Kočevje fishing family holds a special fishing regime for fishing on Lake Kočevje that can be found on the fishing family's website and on the fishing permit itself.
Purchase of fishing permits can be done in several places: TIC Jezero, the Kostevc store or on the Kočevje fishing family website.
Registration of a fishing location on Lake Kočevje is mandatory and can only be arranged at the TIC Jezero. For multi-day fishing, it is also mandatory to pay for the use of the fishing location along with tourist tax (this does not apply to the residents of the Municipality of Kočevje). When leaving the fishing place, it is necessary to clean up the garbage and leave the fishing place in the same condition as when you arrived. Click here for more info about fishing on Lake Kočevje. 
Rafting, Kayaking and Canoeing
Adrenaline and water sports enthusiasts will enjoy rafting, kayaking or canoeing on the River Kolpa. When rafting, you will be accompanied by an experienced guide that will take you safely through the rapids. Kayaking is more demanding and we recommend it to the brave individuals who want to get in touch with water. The River Kolpa will offer cooling and relaxation.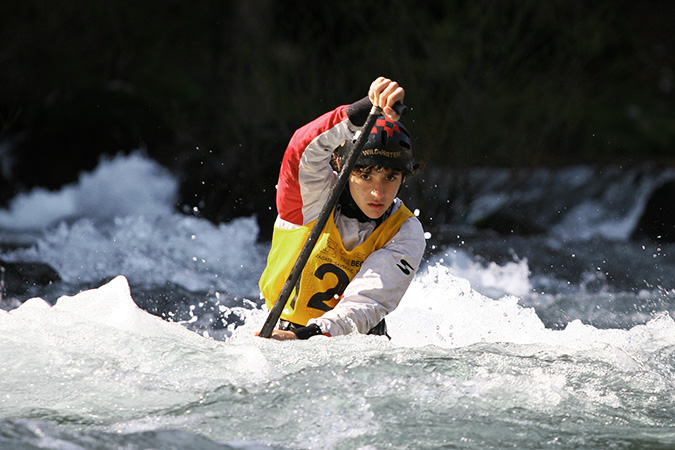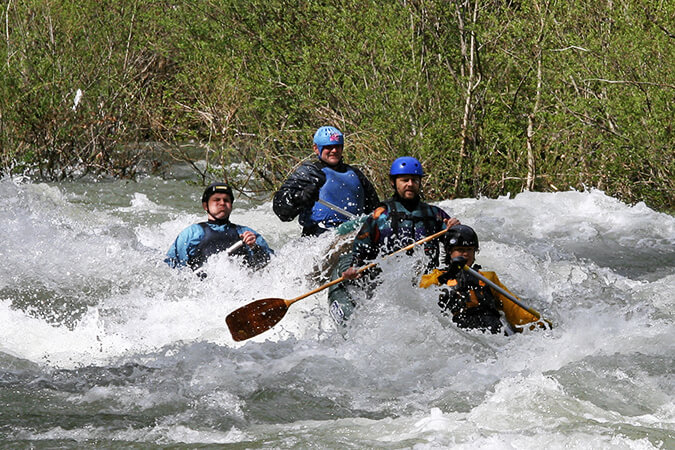 Sailing
The Kočevje Lake invites you to set sail in your (or a rented) small sailboat and glide on the calm surface of the lake. It is suitable for navigation with smaller vessels, such as the mini 12 sailboats, lasers and optimists. The Kočevje Sailing Club offers sailing courses and organises regattas and pleasant gatherings of water sports enthusiasts.
Stand Up Paddling
The increasingly popular water sport is Stand Up Paddling, where paddlers stand on the board. Stand up paddling is a fun and refreshing activity. It is an excellent outdoor sporting activity because it sets all the muscles into motion, easily replacing fitness exercise.
Diving
The water world is especially exciting when you go below the surface. Diving in the Kočevje Lake is an unforgettable experience, explore the underwater world of freshwater animals and plants. The activity is also suitable for beginners, as an experienced team of experts takes you to the underwater world in a safe and exciting way. You can rent diving equipment at the Diving Club Ponirek and at the Lynx Tactical Centre or go on an introductory dive with a diving instructor.